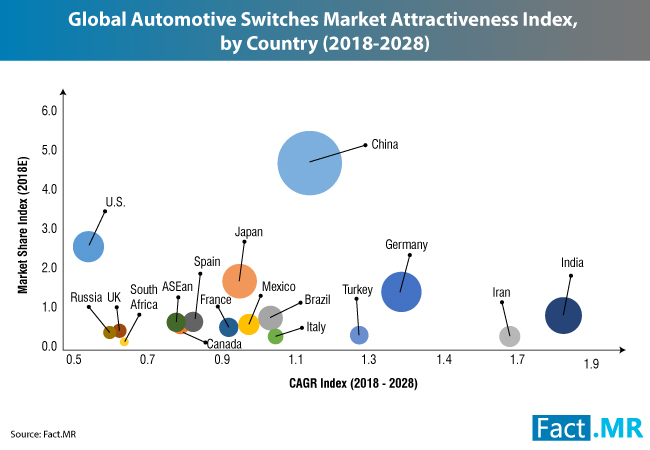 DUBLIN 2, Ireland, 01-Nov-2018 — /EPR ELECTRONICS NEWS/ – Fact.MR, a leading research firm that tracks niche markets across 150 countries globally, has launched a new research report that delivers in-depth analysis on the global trends influencing the automotive switches market. The 170+ page research report on automotive switches offers valuable insights on demand and sales projections across key markets around the globe.
The automotive switches market report is available for direct purchase; a free sample is available for download:
https://www.factmr.com/connectus/sample?flag=S&rep_id=1911
Key Insights from the Report:
Interior control switches is the top-selling category, with sales estimated at over 110 million units in 2018
Europe is the largest market for automotive switches globally, with Germany at the forefront of sales.
China is the second largest market for automotive switches; the country accounts for nearly 23% sales of automotive switches in 2018
Mid-size cars are the most attractive category; sales of automotive switches in mid-size cars expected to be 1.1x of those in compact cars in 2018
OEM channel to remain the most lucrative for sales of automotive switches in 2017
2018 to Reflect Strong Automotive Switches Sales in Germany; China to Showcase High Growth Potential
Automotive switch sales have remained concentrated in Germany in 2018, owing to the preeminence of the country in the growing automotive landscape. Demand for automotive switches in Europe, especially in Germany is largely influenced with their use in luxury and compact passenger cars. Sales are also complemented by growing sales of luxury cars since the past years, coupled with growing scope for the automotive aftermarket.
China continues to reflect increasing adoption of automotive switches on the back of increasing automotive vehicle production that is largely supplemented by growing sales of passenger cars and other commercial vehicles in the country. According to OICA, around 24 million passenger cars were manufactured in the country in 2016. 2017 witnessed a spike in vehicle production by over 3% and is increasing at a steady pace. Growing vehicle production coupled with vehicle parc continues to remain instrumental in driving sales of automotive switches in China.
Sales of Automotive Switches Across Key Countries
Country
2017
2018
2022
2025
2028
Germany
1482.2
XX
XX
XX
XX
China
4781.2
XX
XX
XX
XX
US
2749.9
XX
XX
XX
XX
India
809.6
XX
XX
XX
XX
(Note: All values are in US$ Mn)
Speak to the authors for more information on redacted figures
OEM Hold 12x Lead in sales of Automotive Switches over Aftermarket
Sales of automotive switches through OEM channel are estimated to account for a significant share of the overall automotive switches market. Fact.MR foresees that sales of automotive switches though OEMs are likely to account for over 90 percent share of the global sales in 2018, maintaining a significant 12x lead over aftermarket sales of automotive switches.
The report is available for purchase at https://www.factmr.com/checkout/1911/S
SOURCE: EuropaWire